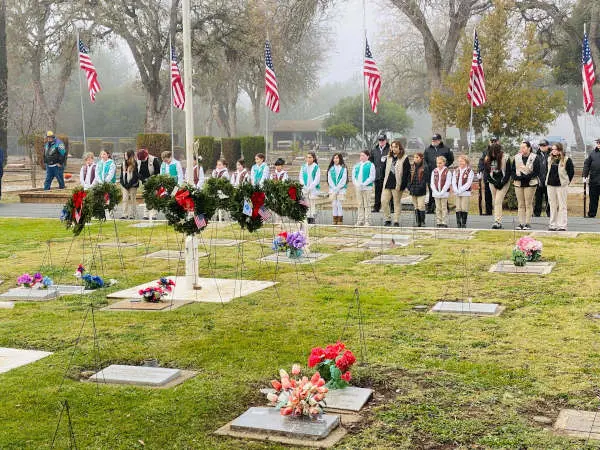 A past Wreaths Across America ceremony at the Kelseyville Cemetery. Courtesy photo.
KELSEYVILLE, Calif. — National nonprofit Wreaths Across America announced that the Kelseyville Cemetery has once again joined in the mission to "Remember, Honor, Teach" as an official location for 2022.

Wreaths Across America started as a simple gesture of thanks that has grown into a national movement of dedicated volunteers and communities coming together to not only remember the nation's fallen and honor their service, but to teach the next generation about the sacrifices made for us to live freely.

This year, there will be more than 3,100 participating locations placing veterans' wreaths on National Wreaths Across America Day — at 9 a.m. Saturday, Dec. 17 — with more than two million volunteers coming together.

The goal for The Kelseyville Cemetery is to raise enough funds to place 519 sponsored veterans' wreaths on the headstones of all the local heroes laid to rest there, to ensure that the individuals who served to protect the freedoms of our country never be forgotten and to bring the community together in patriotic commemoration.

Girl Scout Troop 10145 and 10490 have been working diligently all year long to raise sponsorships for the wreaths.

Both Girl Scout Troops 10145 and 10490 along with Blue Heron and Big Valley 4-H will be facilitating the brief ceremony and placing wreaths on veterans graves.

Organizers invite the community to join them from 9 to 10 a.m. Saturday, Dec. 17, to remember and honor our local heroes.

The ceremony is free and open to the public.

"We are grateful for the opportunity to support the Wreaths Across America initiative at Kelseyville Cemetery where we take pride in honoring our Veterans and teaching our youth the value and cost of our freedom," said event coordinator Allison Panella.

Those interested in volunteering for Wreaths Across America or sponsoring a wreath for the Kelseyville Cemetery are invited to visit this site for more information.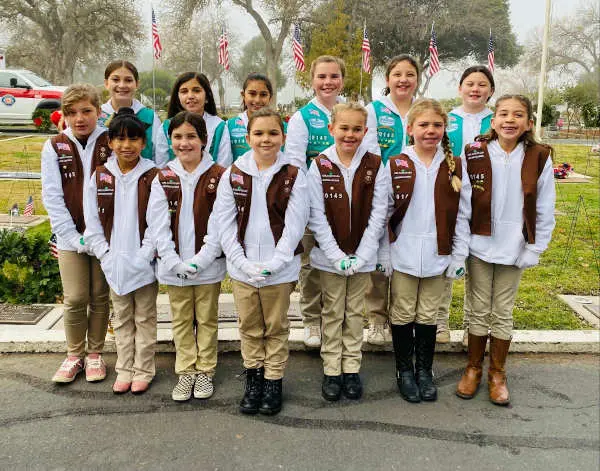 Girl Scout Troop 10145 has been working to raise sponsorships for wreaths at the Kelseyville Cemetery. Courtesy photo.