ELIZABETH LARSON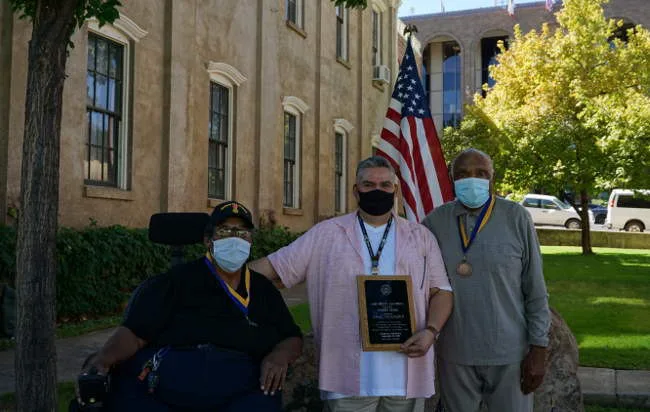 LAKEPORT, Calif. – On Thursday afternoon, the Lake County Chapter of the National Association for the Advancement of Colored People presented its inaugural Veterans Patriot Award to a man who the group said works tirelessly to look out for the well-being of veterans.

In the brief ceremony in front of the Veterans Service Office in downtown Lakeport's historic courthouse square, local NAACP President Rick Mayo and Veterans Affairs Committee Chair Kenneth Bagsby presented the newly created award to Saul Sanabria, Lake County's veterans services officer.

On hand were dignitaries including Capt. David D. Smith, the NAACP's state area director, Vallejo NAACP President Jimmy Jackson, Lake County Sheriff Brian Martin, Clearlake Police Chief Andrew White, Mendocino County Sheriff Matt Kendall and Undersheriff Darren Brewster, NAACP Branch Secretary Hazel Deaner and Roger Sciutto, an NAACP life member and former Clearlake Police chief.

"This to me is invaluable," said Sanabria in accepting the award from the NAACP.

He also noted his gratitude to the people who had traveled so far to see him honored.

This is the first veterans award that the Lake County NAACP chapter has ever given in its 37 years of existence, said Mayo, also a member of the NAACP's Veterans Affairs Committee.

And if anyone deserved it, Mayo added, it's Sanabria, himself a veteran.

"He's helped a lot of veterans in the community," Mayo, a Vietnam era veteran, told Lake County News.

For his part, Sanabria credited his two staffers – Nancy Mitchell and Denver Cortez – with support to make good things happen at his little office, which serves not just Lake, which has a large per-capita veterans population, but a total of 15 counties.

Sanabria has worked as a veterans services officer for about 20 years. The Board of Supervisors appointed Sanabria to head the Lake County Veterans Services Office beginning in July 2014. Since then, he's been involved in efforts including the creation of the county's veterans court.

He and his staff are always on the lookout for veterans because they want to make sure people who served their country are in turn getting the benefits they've earned and deserve.

Sanabria makes a point of being available to help veterans around the clock, seven days a week.

To contact the Veterans Services Office, call 707-263-2384, visit its website or email Sanabria directly at saul.sanabria@lakecountyca.gov. The office is located at 284 N. Main St., Lakeport.

Mayo said the NAACP plans to offer the award once every 10 years.