ARIEL CARMONA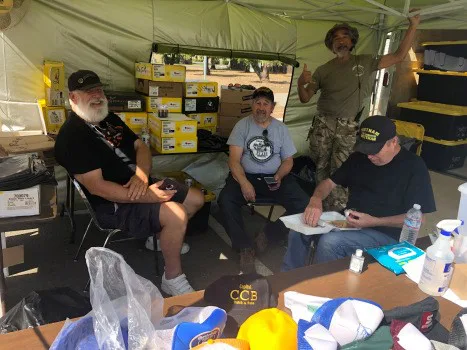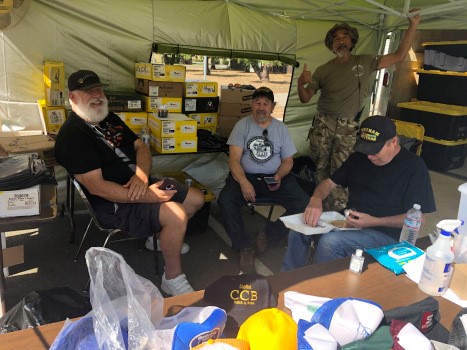 CLEARLAKE— Various agencies, nonprofits and community organizations offering services for Lake County veterans, made themselves available early Saturday at the Clearlake Highlands Community Senior Center, but the event looked different this year as organizers and participants, mostly made of volunteers, had to contend with the challenge of the COVID-19 pandemic.
Dave Waldschmitt, a veteran's advocate who stated he prefers to remain out of the limelight, said because of the health crisis, the event this year presented some unique set of challenges including the need for proper spacing at the senior center facility and having to contend with the inability of more veterans and members of the county's homeless population to attend the event due to a lack of public transportation on the weekends.
Waldschmitt called Saturday's "Stand Down" a "test run" for possible future events, giving the participating organizations including Listos California, the American Red Cross, Catholic Charities, Disability Services and Legal Services and The Vietnam Veterans of America, among others, an opportunity to refine the streamlined service event. Some of the participating veterans purchased a trailer and filled it with items which are usually handed out during the annual event in an effort to become more mobile. Participants said the Mendocino portion of the event is being tentatively planned at a location in Fort Bragg.
Fourth District Supervisor Tina Scott has volunteered at the Stand Down for the past three years and works closely with county partner organizations to help meet the needs of Lake County's homeless population. She said it was important for veterans who are homeless to be counted properly in order to secure the funding needed to continue to provide vital services.
The 2019-2020 Grand Jury, in their final report presented in early summer, found that there is a dramatic under-counting of the homeless population in Lake County, which could equal a difference of approximately 2,500 homeless people counter to the 572 tabulated by the annual one day Point in Time Count.
Scott said it has been a challenge to reach this population, a segment of which does not want to be found and cannot be reached through traditional methods, but instead mostly by word of mouth. She added that events such as the Stand Down held this weekend serve to get the word out about resources available.
"We are providing all kinds of services Lake County never had," she said, adding that the Continuum of Care, a HUD‐designated organization that is committed to the goal of eradicating homelessness, continues to do some amazing work.
According to the National Coalition for Homeless Veterans, the original Stand Down for homeless veterans was modeled after the "Stand Down" concept used during the Vietnam War to provide a safe retreat for units returning from combat operations.
Unfortunately for those who participated in that conflict, society at the time proved to be very unkind or disrespectful of returning veterans, an attitude which seems to have changed over time according to some of the members of the Santa Rosa based VVA chapter 223 who volunteered at Saturday's Stand Down.
Still, there are stigmas and problems that have to be overcome.
"My son is a veteran of Afghanistan, he is 100 percent disabled," said Dan Stover, VVA member. "I had to help him to get his V.A. (benefits.)"
Nikki Derr, Services Coordinator for the Disability Services and Legal Center Ukiah office said the organization provides assistance with benefits, housing, legal issues and more for residents of Mendocino and Lake Counties and works closely with the veteran population providing medical equipment, computer aids, and many other services.
"We are advocates for people with disabilities and we operate a law clinic where we help people with things such as applying for their social security benefits," said Derr adding that in her estimation, a big component of the social problems both counties face which still needs to be addressed is mental health, which she said remains a common problem.
Her organization is there to assist people with planning, scheduling and budgeting through personal assistance services, affordable housing resources, assistive technology which includes help with rehabilitative and adaptive devices for people with disabilities.